Find out the fastest and easiest way to reveal the power of the ALSO IoT Platform using your smartphone device
This tutorial will guide you to connect the very device you use every day - your smartphone. It will reveal the power of data acquisition on the platform, as well as the advanced Pinboard using the same data - in a blink of an eye! 😉
1. ALSO IoT Platform account
Go to the link https://also.allthingstalk.com/ and go through the sign-in process.
Note: in case that you don't have the ALSO IoT Platform account, contact your ALSO reseller that will help you to get one.
2. Connect your Smartphone
Once you have the ALSO IoT Platform account, log in and follow these steps:
Go to your Ground
Click on + NEW DEVICE
Choose "Your smartphone"
Scan the QR code or enter the provided URL into the smartphone's browser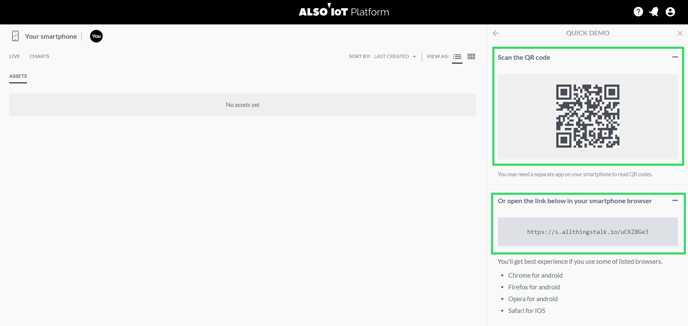 5. After you scanned the QR code or entered the URL into the smartphone's browser, the smartphone device in the ALSO platform will start receiving data.

Note: Keep your smartphone unlocked with the browser opened (this ensures the communication with the IoT platform). If data doesn't sync, refresh the page (both on the smartphone and the ALSO website).
6. You can create the Pinboard fast by clicking on the upper right "+" button and then on the "Create Pinboard". This will give your data the visualisation you're looking for. Feel free to re-arrange it at your choice. Just click on the pen button on the upper right and use the power of your imagination! :)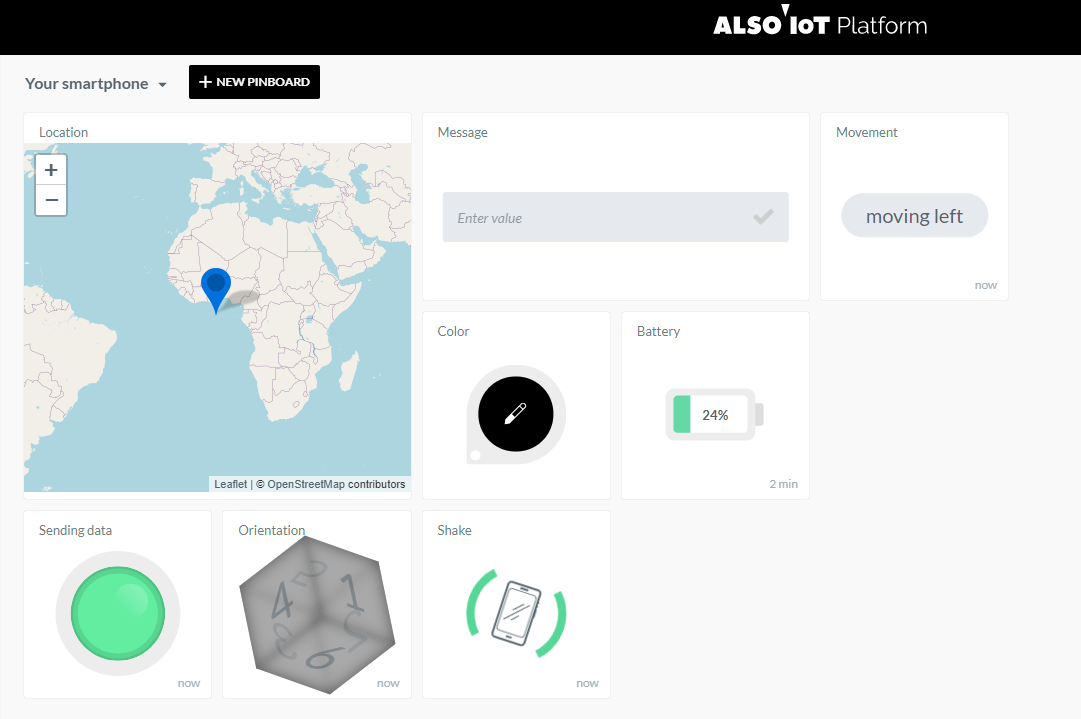 Video Tutorial 🎬
If you stuck somewhere in this tutorial and couldn't create the Pinboard you see above, do refer on the video material below, it may be helpful to see the whole procedure and connect your smartphone demo to your Ground at a glance!
Note: in case you have some issues or suggestions for the Smartphone demo, contact us on support@allthingstalk.com