Data alone doesn't bring much of the business value promise. Therefore, turn data into an actionable information using our Pinboard functionality and make impressive visualisations!
Introduction
Our Pinboard element is a dashboard-alike functionality which let you visualise collected data by displaying a set of visual controls that show values from either a single device, group of devices, an asset or group of assets. You can visualise data coming from any device in a Ground, no matter if you own it or not.
This is the sample of the Pinboard in the Workplace+ Solution Accelerator project: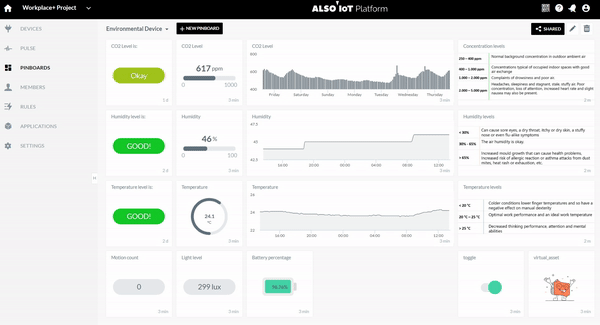 Below you can see the elements of a Pinboard:
Select pinboard: Select which pinboard you want to see from the list of all created Pinboards,
Pinboard management: Share, Edit (add, reshape, delete the Pins) or Delete the Pinboard,
Pinned controls: Visual representation of your asset data on many different assets, including Virtual Assets.
Use-case: CO2 monitoring
The above image shows the use-case of the Environmental device within the Workplace+ Solution Accelerator. Environmental device is an advanced indoor climate sensor that measures CO2 levels, temperature, humidity, light intensity, and detects motion. This Pinboard facilitates the workplace data in both graphical and intuitive way. It uses our Rule engine that triggers Virtual Assets in different colours and notify people who need to take actions upon received data (e.g. to open the window or turn on the air conditioning if the workplace humidity is too low).
Get more info about the Workplace+ Solution Accelerator on our official page
How to create a Pinboard?
You can create a Pinboard either directly from the particular Device (easier option), or from the Pinboard sidebar (more custom from the start).
To create a pinboard, while in your Ground:
Go to PINBOARDS tab on the left sidebar,
Choose + NEW PINBOARD to open the New pinboard modal,
Enter the Pinboard name and choose CREATE.
Create a pinboard directly from your Device page:
Choose "+" on the upper right and select Create pinboard,
Select the Assets you want to pin,
And click on CREATE PINBOARD.
Pinboards that you create as a member are also viewable by the ground owner who can also arrange them. Other ground members won't be able to view and manage your pinboards, unless you share it with them.
Ground owner is unable to create 'private' pinboards. All pinboards created by ground owner are viewable (but not manageable) by everyone else in that ground.
Controls and Pins
Controls are UI elements that either visually displays an asset's current state or 'last known' data.(e.g. label, map), or allows you to actuate a device (e.g. button, slider). It usually displays the timestamp for the last known state. Read more about Controls.
Every control is wrapped into a Pin, which determines its name, position and size. There are number of predefined sizes that depend on the control that it wraps.
Video Tutorial
We made a significant effort to facilitate your work on our IoT Platform. So, this video tutorial will explain how to create a new Pinboard from your Device and start visualising data. All in all, you have to "understand" your data at a glance!