See your most valuable IoT data at a glance, monitor your environment and get notified about important events!

Intro
AllThingsTalk Glance, the new mobile app from AllThingsTalk, lets you see your most valuable IoT data at a glance. You can select Assets from any Ground and view them on a single screen. The app also supports push notifications, which can be triggered from AllThingsTalk Rule Engine.
Application is available for both Android and iOS:
Signing in
AllThingsTalk Glance works both on Maker and on private business spaces. To authenticate the App, follow these simple steps: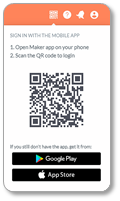 Sign in using the web interface, as you normally would in order to use the platform,
Then, click on the QR icon on the upper right,
Open AllThingsTalk Glance,
Scan the generated QR code.
---
Adding assets
After logging in, you will be presented with a blank screen, to which you'll be able to add Assets from any Ground you own, or are a member of.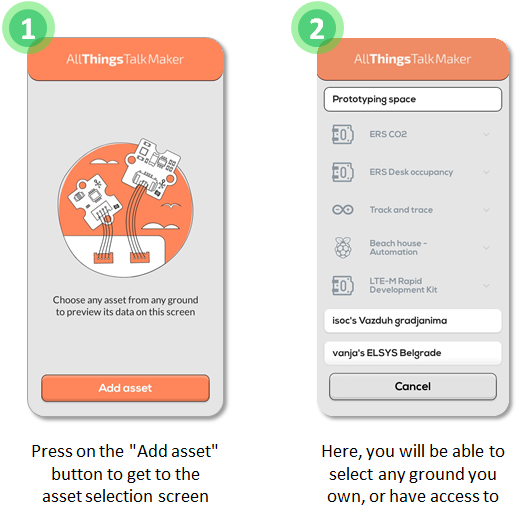 The easy procedure:
Select a ground,
Select any device,
Select an asset,
You will also be able to edit the title of the asset displayed on the screen.
Note: Currently, only boolean, number, integer and string asset types are supported.
---
IoT data at a Glance
Once you repeat the process with all the assets you need, you will get a personal overview of your IoT world. Asset states will update in real time, or using a standard downward refresh gesture.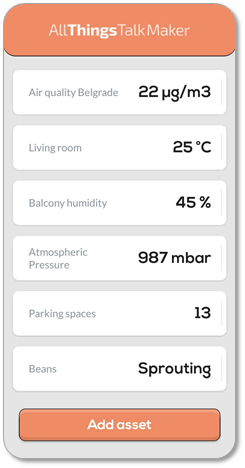 If there are more than a screen full of assets, the list can be scrolled.
---
Editing the asset list
For each asset on the main screen, users can choose to edit the onscreen title, change asset's position in the list, and remove the asset from the list.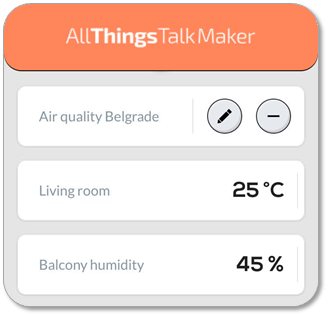 Editing asset title
Select the asset,
Select the pen icon on the left,
Write the new title.
Rearrange assets
Hold the asset,
Drag it up or down to a new position.
Delete the asset from the list
Select an asset,
Select the minus icon on the right,
When asked if you're sure, select yes.
---
Push notifications
Not all data needs to be visible at all times. While you might want to check the CO2 level in your town repeatedly, one time events shouldn't take screen space until they happen. For this reason, AllThingsTalk Glance integrates push notifications.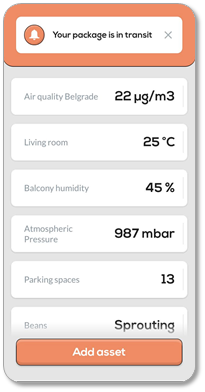 If you
set up a rule
to notify you with a push notification, that push notification will automatically arrive to all devices where AllThingsTalk Glance is installed when the rule is triggered.
Once a push notification arrives, it will remain visible on top of all assets until it's dismissed.