Use our Asset Tracking device(s) with ready-to-use Geofence and Location History apps to obtain real-time notifications for tracked goods.
Introduction
Asset tracking refers to the method of tracking physical assets, either by scanning barcode labels attached to the assets or by using tags using GPS, BLE or RFID which broadcast their location. These technologies can also be used for indoor tracking of persons wearing a tag. Asset Tracking differs from Inventory tracking; the former is the process of monitoring the value of items owned by a business along with useful information about location, ownership, associated documents, etc., whereas the latter describes keeping an accurate record of items that are held in stock for sale to customers [1].
GPS asset tracking
Assets may also be tracked globally using devices which combine the GPS system and mobile phone and/or satellite phone technology. Such devices are known as GPS asset trackers and are different from other GPS tracking units in that they rely on an internal battery for power rather than being hard-wired to a vehicle's battery. The frequency with which the position of the device must be known or available dictates the quality, size or type of GPS asset tracker required. It is common for asset tracking devices to fail due to Faraday cage effects as a huge proportion of the worlds assets are moved via intermodal containers. However modern tracking technology has now seen advances in signal transmission that allows enough signal strength reception from the GPS satellite system which can then be reported via GPRS to terrestrial networks.
Asset tracking apps for smart devices had been used as a means of personal tracking and rescues. For example, Find My iPhone is an app and service provided by Apple; it was used in rescuing a missing person in deep ravine from a car accident after other attempts failed. There are also tracking apps combined with viewing functions used as a surveillance similar to FAA's Automatic dependent surveillance – broadcast (ADS-B) [2].
What are the benefits of asset tracking?
Lower administrative costs
Near real-time tracking
Improved customer service
Planning for future growth
Maintaining certifications
Improved efficiency
Improved accuracy
ALSO's Asset tracking solutions
Oyster2 IoT device
The Oyster2 is a compact, rugged GPS tracking device that has been designed for tracking containers, trailers, skip bins, and other assets where super-long battery life is required without sacrificing the frequency of updates and performance. With ultra-Versatile, ultra-rugged with industry-leading battery life and performance – Oyster2 is designed to track and monitor any asset for up to 7 years.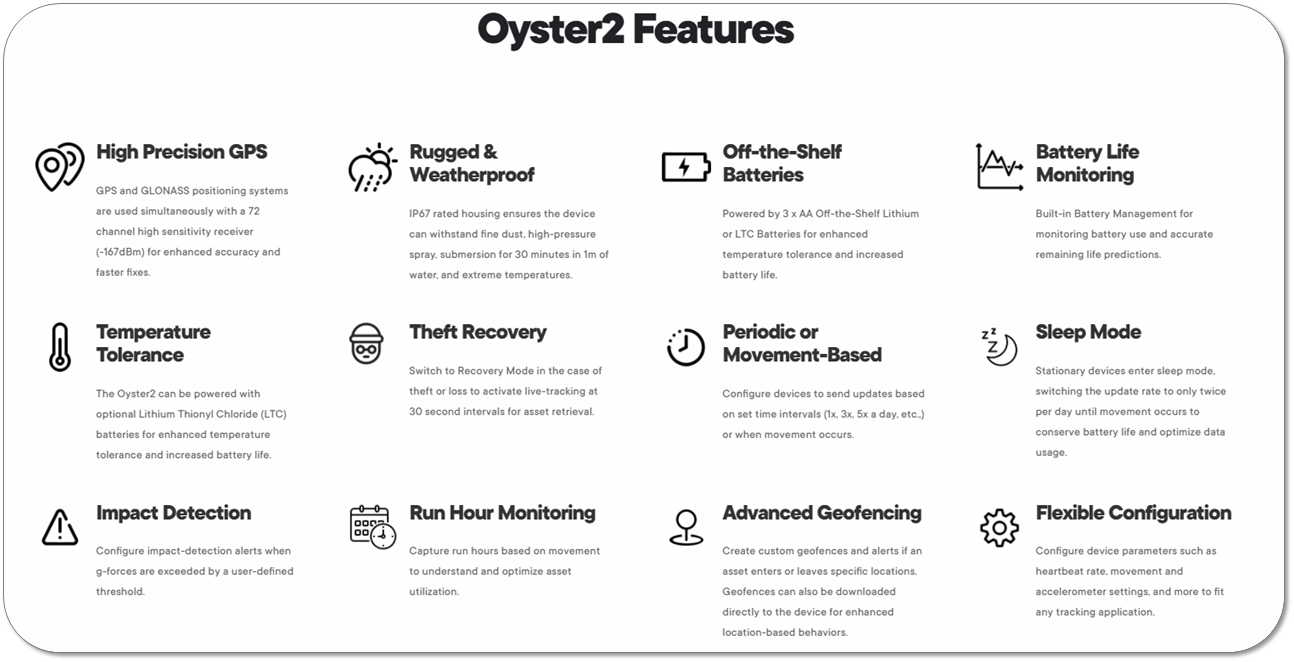 Falcon IoT device
Robust battery-powered or wired GPS tracking device with inputs/outputs, I²C Sensor Interface, and Wi-Fi Positioning for indoor and outdoor asset tracking and sensor monitoring. It has also several other features:
High-precision GPS/GLONASS tracking device with Wi-Fi Access Point Scanning
Flexible Power Options – 3 x AA Batteries with up to 7 years battery life or wired to permanent power
1 x Analog Input, 2 x Digital Inputs, 1 x Switched Ground Digital Output, 1 x Ignition Digital Input, Switched Power Out
I²C Sensor Interface
Weatherproof and ultra-rugged IP67 Housing

ALSO IoT Platform
ALSO IoT platform by AllThingsTalk is a solution that can be used for various scenarios and tasks in the IoT environment. It enables the provision, management and control of devices, applications and services as well as the use of analysis and security tools. Among other things, the platform offers an environment for agile rapid prototyping, for the roll-out of connected products and for visualization tools.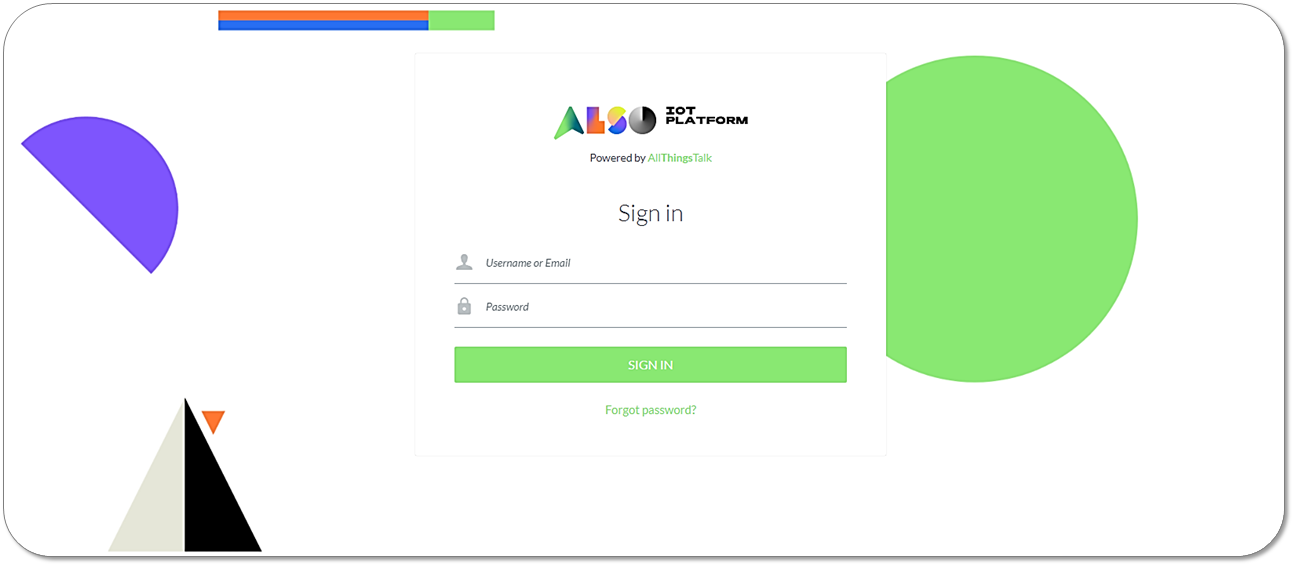 Geofence Application
Within ALSO IoT Platform, one can use a fully developed Geofence application for the tracking purposes. Once a device is added in the platform, its assets (sensor states), such as location, can be implemented in the application and a related user can choose to be notified either when a GPS enabled device exits or enters the geofenced area, or both. This solution is particularly applicable for asset tracking where a buyer is notified once the package left the warehouse and also when it arrives on the needed destination.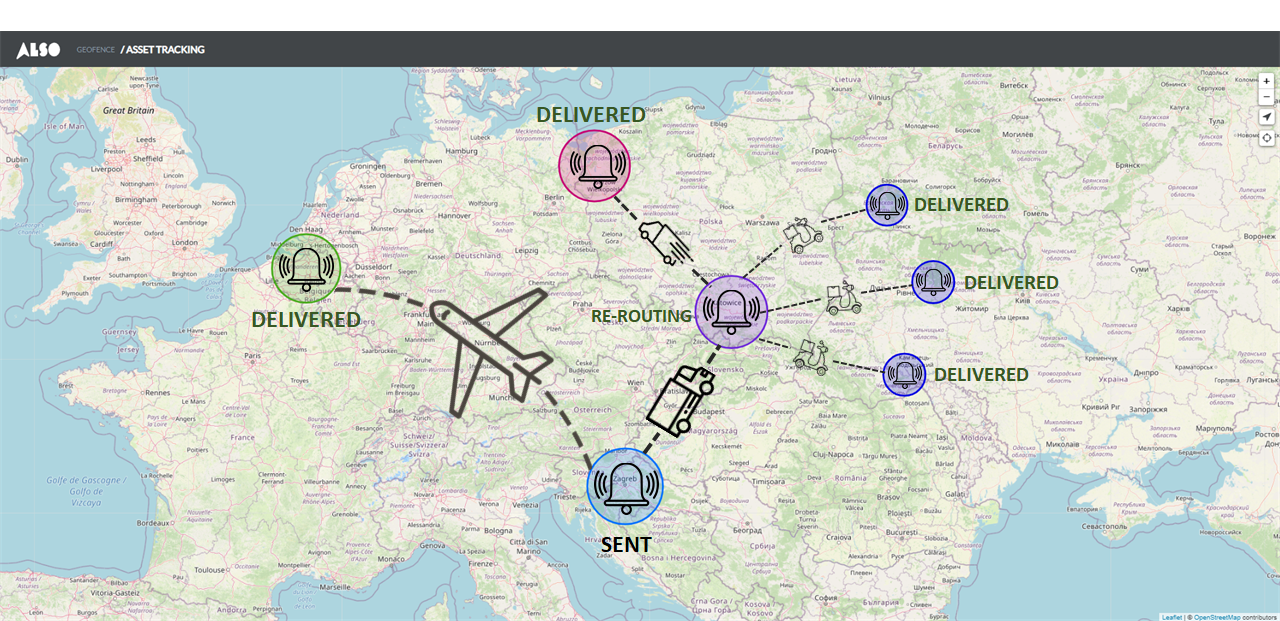 Location History application
Use this application out-of-the box from the "Application" section in the ALSO IoT Platform and get more detailed insights of the routes that your tracking device recorded through the time. You can select either 1 day or more days time span.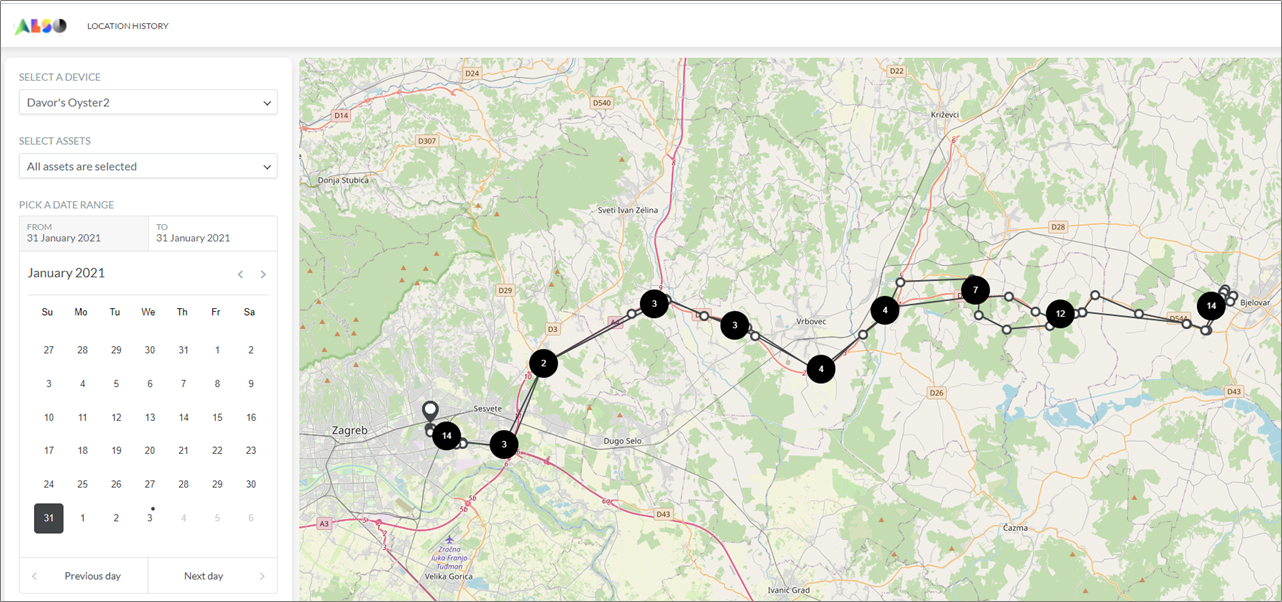 Notifications
As mentioned, the owner of the purchased goods can receive notifications either by:
email,
web notifications or
push notifications on the smartphone app.
Thus, he can rest assured to be informed upon an asset entered the area of his interest.