What is device management permission?
As a group of people, you can do more when you're working in team. With device management permissions, you allow people in your ground to manage devices just like you do.
Setting device management permissions
As a ground owner, you can allow people in your ground to co-manage devices together with you by going to ground Settings, and changing Device management permissions to Members. After that, all ground members will be able to add and manage devices in your ground.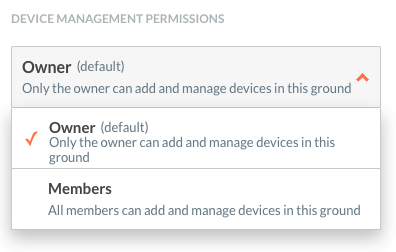 Adding new devices
Given Device management permissions are set to Members, all members can add new devices to the ground, so it's easier to delegate that task between people in the ground. This way more people can contribute to connect as many devices in the ground as possible.
Managing devices
Besides adding devices, after changing device management permissions everyone in the ground are able to manage any existing device in the ground.
More specifically, members will be able to
change device title and description,
delete device,
create new, update or delete an asset,
publish asset state or actuate an asset,
view device settings and

view authentication details
generate new or delete existing token
view connectivity details
connect to or disconnect device from network
view payload format settings
set custom payload conversion (ABCL) or revert to default payload format
turn on or off data storage
request and receive an export of historical data
delete historical data
Sharing devices
As a ground member, you will be able to help out your team in sharing valuable data and therefore let other people leverage on data being collected in your common ground.
This means that as a member you can
share a device to another ground
view native device's remote grounds
remove native device from remote ground
remove a device shared to your ground
Related reads